Testimonials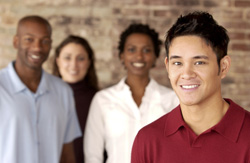 It is a privilege to provide care to our wonderful patients. We asked our patients if they would complete a survey in which we asked them what about our practice made them continue their care with us. Listed below are comments from some of our patients. We thank you for your confidence and appreciation.
"The finest dental office in the whole metropolitan area". John K., Oxon Hill.
"Excellent service, high quality care, genuine concern for my dental health" Tom L., Annapolis.
"Friendliness of staff and detailed explanations of any and all procedures" Kelly G., Annapolis.
"Your patience, understanding, and compassion — has changed my feelings about dentistry!" Pat B., Crownsville.
"Genuine interest in the patient from a personal as well as a medical perspective" Neal G., Arnold.
"Very professional, highly competent and very pleasant. Dr. Witting's humanitarian efforts are an excellent statement as to her example to everyone." James M., Annapolis.
"You are without a doubt the best dentist in Annapolis and not only that but a very caring and compassionate person!" Kathi A., Annapolis.
"How wonderful the entire staff is. It was my four-year-old's first appointment and she did great. We love your practice, and we drive from Severna Park to get there" Tawni S., Severna Park.
"Excellent dental care by Dr. Witting and Karen; efficient, personable office support by Sandy and other receptionist. All feel like my friends. Also, the state-of-the-art techniques, equipment all are important to me." Carol T., Queenstown.
"The genuine concern and how nice the entire staff is" Lori M., Edgewater.
"Wonderful dentist, wonderful hygienist and fantastic front desk" Suzanne S., Arnold.
"The best dental experience I have had in my life by far!" Timothy L., Bel Air.
"Gentle, caring, modern tech, hip" Monti L., Annapolis.
"The atmosphere and professionalism of the staff is outstanding" Jacob D., Severna Park.
"You all are just great and helpful — friendly with sincerity" Charles B., Annapolis.
"Friendly and efficient staff and willing to work with you if you need emergency service" Mary B., Riva.
"Warm atmosphere and thorough attention to patients" Bryan P., Arnold.
"Professionalism, friendliness, personal attention, punctuality and efficiency" Tom M., Annapolis.
"Caring dentist, clean and friendly atmosphere" Poonam U., Baltimore.
"Friendly attitude and good, detailed work" Carlton F., Edgewater.
"Everyone is very pleasant and considerate" Charlene C., Edgewater.
"Knowlegable, friendly, professional, gentle." George A., Lusby.
"A modern approach to dentistry with a modern office and modern internet communications makes getting my dental care easy for me" Robert W., Davidsonville.
"Dr. Witting's gentleness, all of the staff's friendliness and kindness." Dennis, Crofton.
"Modern office with friendly staff." Jenna A., Annapolis.
"Everyone is always pleasant." Karen K., Annapolis.
"The staff is wonderful." Patricia B., Crofton.